Federal Institute for Geosciences and Natural Resources (BGR)
As the German Centre of Excellence for geoscience BGR advises and informs the Federal Government on all issues relating to geosciences and natural resources. The activities of BGR are guided by the principles of sustainability, responsibility and security. It supports decision-making processes in politics and society. Based on reliable data, information and findings, BGR provides scientific advice of the highest standard. As Germany's Geological Survey, BGR undertakes a large number of international duties. In Germany its main task is to act as a co-ordinator.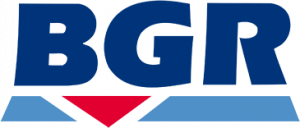 BGR performs duties in the following fields of scientific research: mineral resources, energy resources, groundwater, soil, final disposal of radioactive waste, subsurface use, nuclear test ban, geo-hazard assessment and geoscientific data. In the Sub-Department "Geology of Mineral Resources" and in the work unit "Technical Mineralogy and Clay Mineralogy", deposits of mineral resources as well as residues from mining and mineral processing are studied. Of importance for the project PyroLith are especially the mineralogical and geochemical research activities at BGR under the aspect of secure supply of high-tech metals (e.g. Li, Co) for the industry. In the field of ore deposit research, a modern analytical equipment and many years of experience are present. The tasks of the laboratory for technical mineralogy include the further improvement of the methods for quantitative analysis of mineral compositions of geological samples (SEM-based automated mineralogy; Rietveld analysis).
German Mineral Resources Agency (DERA) at BGR – Berlin Office
The German Mineral Resources Agency (DERA) was founded in October 2010 and is part of the Federal Institute for Geosciences and Natural Resources (BGR). DERA is the federal government's resource competence centre and is the central information and consulting platform for mineral raw materials for the German industry. As part of its raw material monitoring, DERA analyses supply and demand trends for mineral raw materials and their selected intermediate commodities as part of the value chain. DERA prepares detailed studies of selected raw materials.

DERA analyses the current market situation of mineral raw materials and prepares individual future scenarios. DERA has been working on the topic of battery raw materials since 2017. Detailed raw material risk analyses on lithium and cobalt have already been completed; graphite and nickel will be published shortly. In the BatMix project, DERA's data expertise and global understanding of the system in the raw materials sector are particularly relevant. In addition, DERA is currently expanding its raw material monitoring with secondary raw materials, by decree of the German Federal Government's raw material strategy from 2020. DERA will contribute crucial information for positioning a sustainable raw material supply for future battery production.